Exercise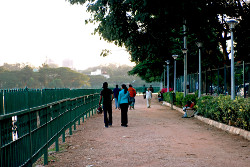 Exercise is important
Love it or hate it the truth is regular exercise and physical activity are important factors of healthy living. While adequate regular physical activity can help you maintain a healthy body weight, one aspect of being healthy, physical activity can promote health in a number of ways.
The Benefits of Exercise
Being sedentary, regardless of body weight, has been linked to increased risk of heart disease and some cancers so increasing the amount of time you spend moving over the course of a day can decrease this risk.
Regular physical activity and exercise can also increase feelings of well being, improve digestion, and improve sleep.
Getting started on a physical activity/exercise program is not always easy, while maintaining and established program can be problematic when your routine changes.
How we help
This section of our site provides information that you can use to develop your personalised healthy physical activity and exercise plan and covers a variety of topics such as:
Physical activity, exercise and fitness: what's the difference?
Health recommendations for physical activity and exercise.
Health benefits of physical activity, exercise and fitness.
What do the terms aerobic and anaerobic mean in relation to exercise?
The different components of physical fitness.
If you've arrived at this page then you possibly have some interest in exercise. Whether you are contemplating starting a physical activity/exercise program, a beginner exerciser, an experienced exerciser, or just want to learn more about physical activity and exercise our articles will have something for you. If you can't find what you are looking for we encourage you to ask us and we will do our best to accommodate your enquiry.
Learn how to get started and find out about strategies for maintaining your physical activity or exercise program by joining us at a Healthy Philosophy. Take advantage of a free month by signing up for a subscription today and take the next step to a healthier you.